Big Ten Network Announces 2023-24 Big Ten Wrestling Schedule
CHICAGO, Ill. – The nation's premier wrestling conference returns to the Big Ten Network in search of a 17th consecutive NCAA Championship, with 24 duals and Big Ten Wrestling Championships coverage airing live on BTN and the FOX Sports app.
Action begins on Sunday, Dec. 3, with the defending national champions and No. 1 team in the nation as Penn State hosts No. 24 Lehigh at 2 p.m. ET. No. 7 Ohio State will take on two ranked non-conference opponents at the start of the year, as No. 15 Pittsburgh visits on Dec. 10 at noon ET and No. 2 Cornell heads to Columbus on Jan. 5 at 8 p.m. ET.
Conference wrestling on the network begins in 2024 with primetime matchup on Friday, Jan. 12, between No. 8 Iowa and No. 5 Nebraska at 7 p.m. ET. The following Friday, Jan. 19, is home to a tripleheader of action with No. 5 Nebraska at No. 16 Minnesota, No. 1 Penn State at No. 9 Michigan and Purdue at No. 8 Iowa squaring off. Throughout the remainder of January and February, Friday night wrestling on BTN will be a mainstay with primetime duals.
Additional schedule highlights include a Friday doubleheader on Feb. 9, when No. 9 Michigan takes on No. 5 Nebraska at 7 p.m. ET ahead of No. 1 Penn State traveling to No. 8 Iowa at 9 p.m. ET. To close out the regular season, No. 25 Wisconsin visits No. 8 Iowa and No. 5 Nebraska competes in Happy Valley against top-ranked Penn State on Sunday, Feb. 18.
More than 80 additional contests will be available for streaming on B1G+, BTN's home for non-televised events and on-demand archives. B1G+ is home to coverage of the Ken Kraft Midlands Championships, supplemental coverage of the 2024 Big Ten Wrestling Championships, Soldier Salute, Zingo Nationals and the University of Iowa women's wrestling team's first ever home event, the "Trailblazer Duals." Subscription options include a conference wrestling pass, which delivers all Big Ten wrestling on B1G+, for just $69.99 per year.
B1G Wrestling & Beyond will return in January of 2024 with host Rick Pizzo and analyst Shane Sparks taking you around the Big Ten with an assortment of highlights, analysis and guests. Additional coverage includes the return of On The Mat, BTN's multi-platform, behind-the-scenes look at Big Ten wrestling, as well as BTN's Big Ten wrestling Instagram page.
According to Intermat's preseason rankings, the Big Ten has 11 teams ranked in the top 30. Defending national champion Penn State leads the way at No. 1, followed by No. 5 Nebraska, No. 7 Ohio State, No. 8 Iowa, No. 9 Michigan, No. 14 Rutgers, No. 16 Minnesota, No. 18 Illinois, No. 22 Maryland, No. 25 Wisconsin and No. 29 Indiana.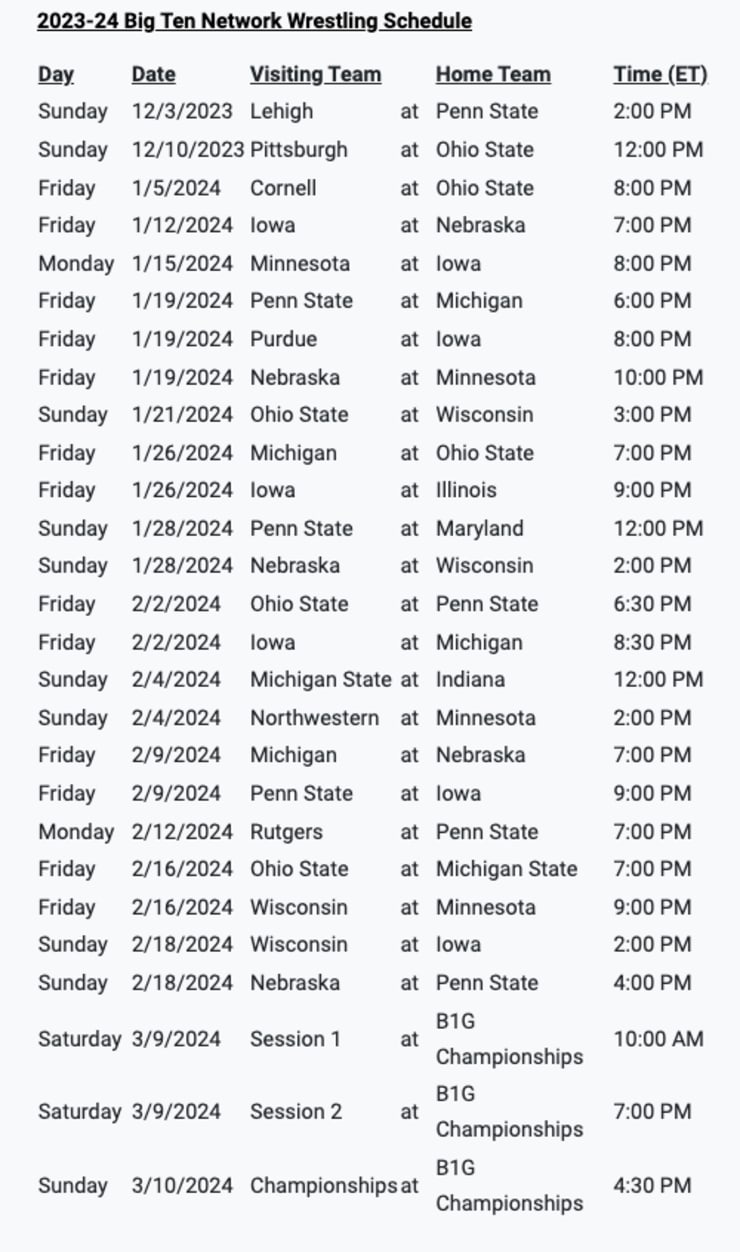 About The Big Ten Network
A joint venture between the Big Ten Conference and Fox Networks, Big Ten Network is the first internationally distributed network dedicated to covering one of the premier collegiate conferences in the country. With more than 2,200 live events across all platforms, the 24/7 network is the ultimate destination for Big Ten fans and alumni across the country, allowing them to see their favorite teams, regardless of where they live. The Fox Sports App is the digital extension of the Big Ten Network, delivering live games and on-demand programming to Big Ten Network customers via the web, smartphones, and tablets. Network events include football, men's and women's basketball games, dozens of Big Ten Olympic sports and championship events, studio shows and classic games. With over 1,700 events annually, B1G+ is the subscription streaming service for thousands of live non-televised games, next day on-demand archives, 14 school channels programmed 24 hours a day and access to Big Ten Network's library of previous season classics and original programming. Original programming highlights activities and accomplishments from some of the nation's finest universities, including the Emmy-nominated The Journey. The network is carried by all the major video distributors across the United States and Canada, such as DIRECTV, DISH, Verizon Fios, Spectrum, Xfinity, Optimum, Cox Contour TV, Mediacom, Astound Broadband and approximately 300 additional video providers across North America. Big Ten Network is also available through the majority of streaming providers, including DIRECTV Stream, Fubo, Hulu + Live TV, Sling TV, Vidgo and YouTube TV. For additional information, please visit www.btn.com.